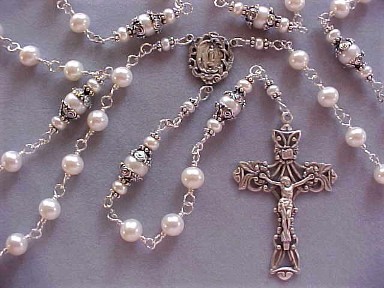 #1 FRESHWATER CULTURED PEARL ROSARY
Rare handmade rosary
My favorite Pearl rosary!
Recommended as a womens rosary and June birthstone rosary
Third and Thirtieth Wedding Anniversary rosary
Bride's Wedding Rosary

Genuine 6.5-7mm round Freshwater Cultured Pearls* with larger Our Fathers enclosed by ornate handmade Bali Sterling Silver caps, with Fresh Water "button" Pearl accents. These are Pearls of exceptional quality - very uniform in size, shape, color and luster with no rings, wrinkles or bumps. The 2 1/4" Deluxe Streamer crucifix and 7/8" Wreath Framed Miraculous center are satin finished sterling silver, with engraved highlights. All wire, chain and findings are also Sterling Silver. Pearls are a recognized birthstone for June and an appropriate gift for any woman. Deluxe crucifix/center sets on #1, #2, #4, and #5 are all interchangeable at the same price.


A+/AA grade 6.5-7mm round white/creme rose* Freshwater Cultured Pearl Sterling Silver wire wrapped rosary $522
(superb luster -shown in picture above)
B/B+ grade 6.5-7mm round white/creme rose* Freshwater Cultured Pearl Sterling Silver wire wrapped rosary $417
(good luster )
B-/B grade 6.5-7mm round white/light creme Freshwater Cultured Pearl Sterling Silver wire wrapped rosary $313
(Not as lustrous as those shown in picture above, similar to those shown on #2)
*White with creme rose overtone is a natural color and is the most desireable to most women
*Cultured Pearls, both Freshwater and Saltwater, are Real Pearls.
Almost all of the Pearls sold by Fine Jewelers are Cultured Pearls.
They are grown under controled conditions inside of oysters and freshwater molusks.
The controled conditions produce more consistant size and shape pearls than
those grown by accident, by implanting a piece of shell wrapped in the tissue from another
oyster or mussel inside the oyster, which causes a pearl to grow around it.
Also Available:
Pewter rosary with 8mm glass pearls and traditional chain link construction $53
Pewter rosary with 7mm Swarovski Crystal pearls and traditional chain link construction $73
Silver Plated wire wrapped rosary with Swarovski Crystal pearls and crucifix/center from #4 $153
Swarovski and Glass pearls are not real pearls, they are immitations made with a pearlized coating. Swarovski Crystal pearls are made by a process that makes them much more resistant to peeling than other types of glass immitation pearls.
You can tell the difference between a Real Pearl and an immitation by rubbing it on your teeth.
A Real Pearl will feel gritty. An immitation will feel smooth.