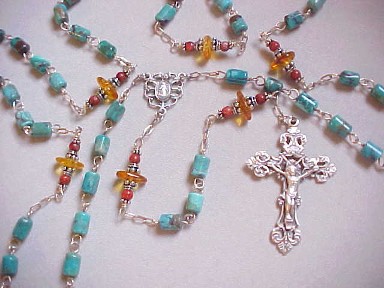 #30. TURQUOISE, AMBER & CORAL ROSARY
Recommended mens, womens, or childrens rosary
December birthstone rosary or Eleventh Anniversary rosary

5x7mm Turquoise tubes and Baltic Amber with Bali Silver caps tipped with red Coral. This rosary has a "southwest" look, very appealing to teenagers, and equally appropriate for a man or woman.The 1 3/4" Small Filigree center and 5/8" Small Filigree crucifix are sterling silver. All wire, chain and findings are also Sterling Silver. Turquoise is a recognized birthstone for December.
TURQUOISE AMBER & CORAL STERLING SILVER WIRE WRAPPED ROSARY $259
*NOTE: Most turquoise is soft and porous when it is mined. Untreated Turquoise is a fragile stone with a tendency to develop undesirable color changes when it is exposed to light, perspiration, oils and detergent. It is penetrated with resin for durability. This serves to harden the stone and enhance its color, as well as help prevent the absorption of body oils and deterioration from chemicals.

See a different Turquoise rosary on the next page.


PLEASE CLICK BELOW TO GO ON TO DESIGNER PAGE 7