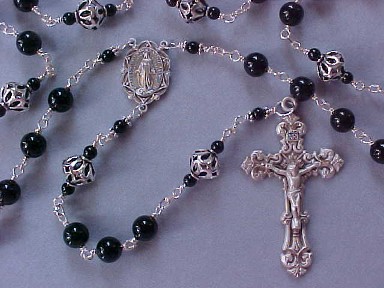 # 20. BLACK ONYX ROSARY WITH STERLING CUT OUT BEADS
Best Selling Mens Rosary
Seventh Anniversary Rosary or Groom's Wedding Rosary
Recommended as a mens rosary but many women like it too

8mm Black onyx combine with large (approximately 8x10mm) hand made Sterling Silver Cut Out beads, and tipped with 4mm Black Onyx. The 2 1/4" Deluxe Filigree Crucifix and 1" Dotted Lace Edge Miraculous Medal center are satin finished sterling silver, with engraved highlights. All wire, chain and findings are also Sterling Silver.


Black Onyx Sterling Silver wire wrapped rosary (shown) $393


NOTE: This style rosary can also be made with any other 7 or 8mm gemstone.
Price will vary according to stone selected.
Also available with the Hand Crafted Heirloom Crucifix and Center shown below:
Scrolled Miraculous Center with Angel and Scrolled Crucifix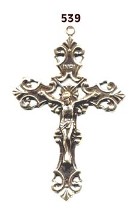 ALSO AVAILABLE:
Pewter rosary with traditional chain link construction and Black Onyx $95
Pewter crucifix and center are smaller




PLEASE CLICK BELOW TO GO ON TO DESIGNER PAGE 5